Being from the country that houses the remains of St Valentines bones we Irish take the day very seriously....so I bought him the new Stephen King book Cell and he bought me flowers that looked like they came from a petrol station.
He's not one for doing things because he feels he has to and sometimes buys me presents for no special occasion like last year when he surprised me with a rolex watch complete with diamonds.
That photo is in my library for insurance reasons not because I suffer from narcissism.
Rods been off the cigarettes for 7 whole days today. The book he read on giving up cigarettes must have told him to keep busy because he's doing d.i.y. cleaning the kitchen counter tops and coming home early at 4.00pm every day. This afternoon I spotted him matching((6peoplex7days(x2weeks) x2 per person)= 168 socks into pairs, so I backed away as quietly as I could.
It rained twice this week. From Monday to Wednesday then Thursday to Friday. I don't like the rain because then I can't wear these.
I had soup and brown bread for lunch with my Mum and my friend S in a tapas bar that has no chef yet. Apparently he has been hired and is arriving here from Spain next week. The Bar is owned by a lovely couple who also own the Restaurant below. My daughter is in love with her son and vice versa. We can't leave them alone in case they elope to Gretna Green, disappearing like Kiaiser Sousey, marry, have children and make us grandparents before we're ready. My daughter is older than him by a couple of months. He wont turn 5 till the summer.
I've been painting every day. This is where I'm at.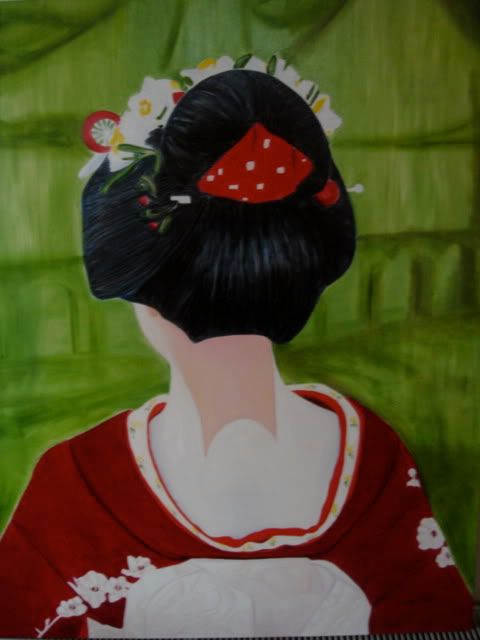 Heres a little bit of information about Saint Valentine and his Irish connection
The Dublin church which houses the bones of St Valentine will today host ceremonies to
bless the rings of its congregation.
A casket containing the remains of the patron saint of lovers will be taken from a shrine in the Carmelite Church in Whitefriar Street and placed on the high altar for the annual custom.
Prior of the Carmelite monastery, Fr Christopher Crowley said that wedding, engagement and friendship rings of 'special sentimental value' will be blessed during the service after Masses at 11am and 3.15pm.
Fr Crowley said St Valentine's Day is marked all over the world but not many people know that his remains rest in a Dublin church.
"We get a trickle of tourists during the year but I suppose it is still a very well-kept secret."
St Valentine's remains have rested in the Carmelite Church since 1836 when they arrived in a sealed reliquary from Rome.
The oratory also contains a statue of the saint, under which couples often propose marriage to each other, according to Fr Crowley.